 Website Mediacom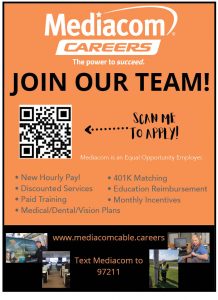 "Joining the Mediacom family equips you with unparalleled support on your journey to success.
Open-door communication, upward mobility, and career growth are natural testaments to the strength of that policy in action. Why not work at a place that recognizes and rewards hard work?
Founded in 1995, Mediacom is a true story of success. When you join Mediacom, you become part of a proud tradition of men and women working together to support our company, each other, and the communities we serve.
Our focus is the future."