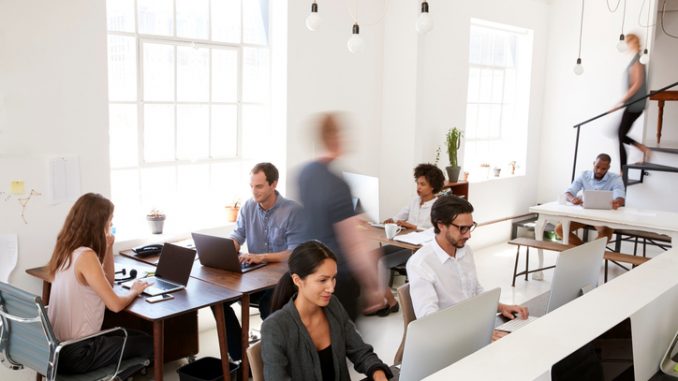 Unless they're backed by actions, initiatives and partnerships, terms like "diversity" and "inclusion" run the risk of becoming mere buzzwords in the tech industry, which remains under fire for the lack of both. We caught up with three local companies to learn more about how they are building more inclusive and diverse work environments.
San Mateo-based Medallia opened its Austin office in the summer of 2017 with a hiring focus on sales. Leading Medallia's diversity and inclusion efforts is Lauren Jackman, who serves as the the company's inclusion practice lead. Specific steps include a commitment to equal pay, non-binary bathroom signage in the offices and a focus on what candidates can add to the culture as opposed to how they will fit in with existing culture.
How does your hiring process promote diversity?
We adopt best practices to minimize unconscious biases and ensure fairness and objectivity. We run our job descriptions through a gendered language decoder to ensure we're not inadvertently appealing to some job seekers more than others. We also think about what someone can add to our company culture — not just how they fit into the existing culture, which can unfairly penalize people from different backgrounds. Currently, we're focused on ensuring our interview process is structured, and that the evaluation criteria are clearly defined.
We're also collecting data so we can measure outcomes like hiring rates for different demographic groups. We're continuously trying to understand where we have opportunities to improve. We are committed to a process that reflects our commitment to diversity every step of the way.
What policies does your company have in place to make your work environment more inclusive?
We have the basics for ensuring all employees are safe and respected, like a clear code of conduct, an anti-harassment and bullying policy, an anti-discrimination policy and mandatory trainings on these policies. We've also made an equal pay commitment and conducted our first-ever pay equity analysis to ensure that compensation for U.S. Medallians is equal (i.e., that there are no statistically significant differences) across gender and race for comparable work, experience and performance. We are committed to conducting regular reviews of our practices to ensure continued fair compensation for Medallians.
In terms of benefits, we offer six weeks of parental leave for all new parents, and we offer a service called MilkStork to support Medallians who are travelling for business while breastfeeding. Last year, we participated in the Corporate Equality Index for the first time, and we earned the designation of a Best Place to Work for LGBTQ equality, in part because of the support our benefit plans provide for same-sex couples and trans individuals. We have guidelines in place to support Medallians who are transitioning at work, and we have non-binary bathroom signage in our HQ to help make sure everyone is comfortable in our space.
What resource groups exist within the company to support diversity and inclusion?
We have several employee resource groups, all led by volunteers. These communities greatly enrich our environment by leading internal celebrations, like Pride Week and our talent show, offering professional development opportunities, like participating in our Medallia mentorship program called WIRED, and creating opportunities for Medallians to give back. They are: A11y (accessibility); BAM (Blacks @ Medallia); HispanX Voices; Medley (a cross-functional diversity council); Parents, Q_Field (LGTBQ+); Women@; Women in Tech and Vets@.
Does Medallia consult with external advocacy groups about how to make your hiring process more inclusive?
We partner with three external organizations to help us find talent: Year Up, which focuses on closing the opportunity divide for youth; Path Forward, which focuses on helping caregivers re-start their careers; and Breakline, which focuses on helping veterans transition into careers in the tech industry. We also host and sponsor events, partnering with groups like the Society of Hispanic Professional Engineers and 100 Black Men of the Bay Area, and hosting events like Geek Girl Dinners, to help us meet talent from communities we know tend be underrepresented in the industry. We're actively seeking to expand these partnerships with local organizations across additional office locations.
Click here to read the entire article from www.builtinaustin.com