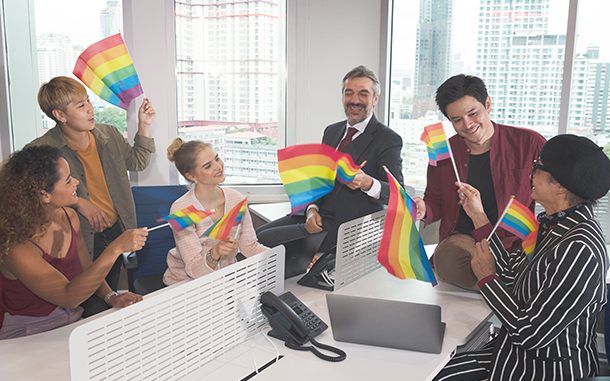 by Ryan Howard
In 2018, the Human Rights Campaign reported that nearly 50% of LGBTQ workers remain in the closet at their place of employment. The report revealed that these workers are told to dress more masculine or feminine or have heard others tell offensive jokes about being gay or lesbian.  They're afraid to come out because they don't feel that they would be supported, they would face discrimination and it would ruin relationships with their co-workers. These fears lead to feelings of depression, exhaustion, or the inability to focus on their jobs. While there is legislation to protect LGTBQ employees, employers can create a more inclusive workplace through leadership and recruitment.
Here are best practices and examples of how to support LGBTQ employees in the workplace:
Examples of Corporate Equality
Every year, the Human Rights Campaign (HRC) publishes the Corporate Equality Index of businesses that have instituted "corporate policies and practices pertinent to lesbian, gay, bisexual, transgender and queer employees." The businesses are rated and given the distinction of "Best Places to Work for LGBTQ Equality." The rating includes criteria based on:
Non-discrimination policies across business entities
Equitable benefits for LGBTQ workers and their families
Supporting an inclusive culture and corporate social responsibility
For examples of nondiscrimination policies, benefits, inclusion training and metrics, public commitment and social responsibility, download the report here.
Recruitment & Talent Acquisition
Part of building a more inclusive workplace is hiring more diverse employees. Businesses can start building a welcoming reputation through their corporate mission statements, company values and through the images and language used on their digital platforms, such as their website and social media. An employer that actively supports LGBTQ causes, partners with LGBTQ organizations or recruits from LGBTQ-specific job sites will undoubtedly appeal to a more diverse group of candidates.
Application & Screening
An employer's onboarding process will also reveal if they are truly inclusive to the LGBTQ community. The application and other hiring paperwork should allow gender choices beyond "male" and "female" to include "other" and perhaps "non-binary". When running a background check, it's important to gather as much information as possible to verify that the screening report is accurate. If the candidate has transitioned, for example, it is necessary to obtain all identifying information to get a comprehensive report. The candidate should also be able to signify how they currently identify and which pronouns they prefer.
Unfortunately, many LGBTQ people do not have access to healthcare or are afraid to seek care due to their LGBTQ status. Many have faced unemployment or homelessness due to being rejected by their families, have faced prejudice from health care staff or inexperienced staff who were unable to provide care. LGBTQ-inclusive employers can offer benefits packages to include:
Health and life insurance with same-sex partner benefits
Medical benefits to support the needs of transgender employees
Paid family leave (as opposed to just maternity leave)
Employers can also promote inclusive policies to protect those who are out at work such as:
Support and ease when changing their identifier or pronouns
A way to report discrimination, pay discrepancies, workplace and sexual harassment
Gender-neutral restrooms
Reasonable dress codes not based on gender stereotypes
Advocacy groups for closeted employees so they feel safe when they're ready to come out
Training & Leadership
Management and supervisors can establish and be trained in nondiscrimination and inclusive policies. These policies would include accountability and corporate commitment to cultural diversity so that leadership and fellow employees understand how to support LGBTQ co-workers. This training would be ongoing and part of the company culture of the organization, including mandatory instruction for new hires. Leadership can identify champions and allies to act as management support for those who are afraid to admit their orientation.
Those that identify as LGBTQ have sought equal representation since the 50's and 60's culminating in the Stonewall Riots in June 1969. June is now considered "Pride" month and highlights the continued progress in the LGBTQ movement. Employers can recognize Pride Month or National Coming Out Day (October 11) to support those workers who may be struggling with acceptance in the workplace.
There are hundreds of enterprise organizations and small businesses that are leading the charge in workplace diversity. To learn more about companies that support LGBTQ equality in the workplace, read this post on Glassdoor.
This article was reprinted with permission by Verifirst.com