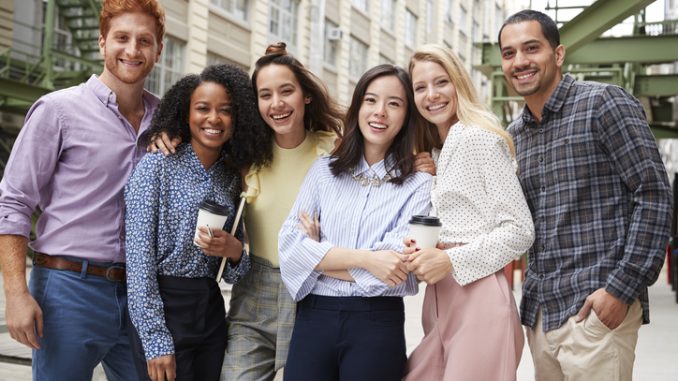 Chances are you've heard the phrase "diversity in the workplace." In recent years, this phrase, and what it entails, has become increasingly important. And millennials — generally considered anyone born between 1981 and 1996 — are a big reason for it.
The 2018 Deloitte Millennial Survey suggests that this generation, which is expected to make up 75 percent of the workforce by 2025, takes a far more nuanced view of diversity. To them, it's less about gaining equal opportunity and more about holding to the conviction that working and collaborating with people from varied backgrounds will make a company smarter, richer, more creative and more successful. In fact, according to this same survey:
74 PERCENT OF MILLENNIALS BELIEVE THAT THEIR ORGANIZATION IS MORE INNOVATIVE WHEN IT HAS A CULTURE OF INCLUSION.
This statistic sends a clear message: businesses taking active steps to build and maintain a genuinely diverse culture will reap the benefits. Results from the same Deloitte survey also reveal that 83 percent of millennials feel empowered and engaged in the workplace when they believe their company fosters an authentically inclusive culture.
In fact, having a diverse workplace positively impact a company's bottom line. A recent Harvard Business School survey found that companies with more diversity on their teams made between 18 and 69 percent more in terms of net income and operating revenue. Meanwhile, businesses with a more gender-diverse board saw a 42 percent higher return in sales, 66 percent greater return on invested capital and a 53 percent higher return on equity. And from a hiring perspective, cognitive diversity is key for something else: retaining talent.
"MILLENNIALS ARE DEMANDING THAT ORGANIZATIONS VALUE AND BE INTENTIONAL ABOUT DIVERSITY AND INCLUSION."
AVERY M. BLANK, WORKPLACE AND LEADERSHIP EXPERT
Companies that offer long-term security and facilitate feelings of inclusion have a leg-up on other employment opportunities. Millennials, on average, change jobs every two years. This mobility is partially due to a generation of employees who won't stick around at a job where they feel undervalued or feel the need to hide any part of their identity. "Research shows that many millennials prioritize inclusion in their job search," says workplace and leadership expert Avery M. Blank. "Millennials are demanding that organizations value and be intentional about diversity and inclusion, especially for long-term growth." So if businesses are looking to hire and sustain a millennial workforce, diversity should be a key part of the company culture.
Continue reading this article at ozy.com