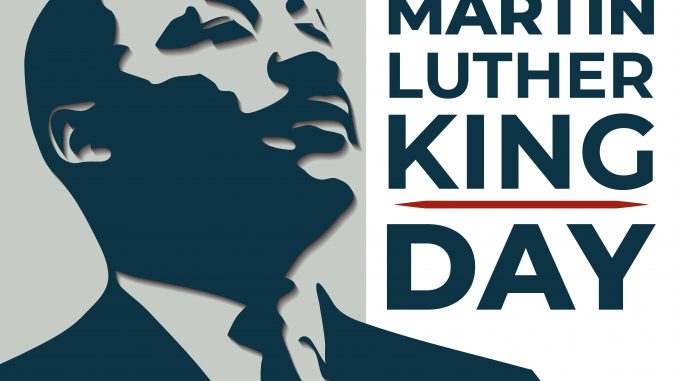 By Katie Dupere
Too often, Martin Luther King Jr. Day is seen as a day off — and little else. Here's how to change that in your life.
Aside from grade school lessons painting a vague picture of King's life and activism, the majority of us, especially white people, remain detached from his impact. King is a historical name we've learned to recognize, coupled with bits and pieces of facts from a whitewashed history. But truly appreciating his work is hardly on the radar — even on a day made to honor him.
It's an uncomfortable reality of how we've been taught to value (or, rather, not value) one of the most influential black leaders in history. It's all merely surface; a story we don't see as extending beyond the crisp pages of an elementary textbook.
But King was a racial justice leader and organizer whose influence is still felt today, which deserves to be meaningfully recognized on MLK Day and beyond. To help fully honor King and his legacy, here are six ways to celebrate a man and a movement that continue to challenge and break barriers.
1. Volunteer in a way that gives back to the black community directly.
"Everyone can be great because everyone can serve."
King was a tireless activist who deeply valued the meaningful change that committed individuals can make when working toward good. The proof is in his fearless and responsible activism, a precedent still championed and felt today.
The King Center — a nonprofit dedicated to preserving King's memory established by his late wife, Coretta Scott King — advocates for MLK Day to be "a day on, not a day off," calling for those who have the day off work to honor King's life through volunteerism.
While MLK Day is talked about as a national day of service, often it stops at just that — merely talk. Instead of using the day as an excuse to sleep in or binge-watch a new Netflix series, commit to taking steps to support your local community directly — especially local communities of color.
Visit here for a comprehensive database of all registered MLK Day volunteer opportunities in your area. But, beyond that, make it a goal to connect with your local community to find out what underserved populations in your area need from you. Let communities needing a hand define your role for you — then, get to work.
2. Recognize and value the full, comprehensive history of King — and of the racial justice movement.
Many of us only know a partial story of Martin Luther King Jr., one that focuses on certain parts of his character appealing to a certain (read: white) historical narrative. His virtue of nonviolence, for example, is exploited as a way to discourage rebellion in the face of racism — something that King actually saw as an obligation.
To read this article in its entirety at Mashable.com, click here.