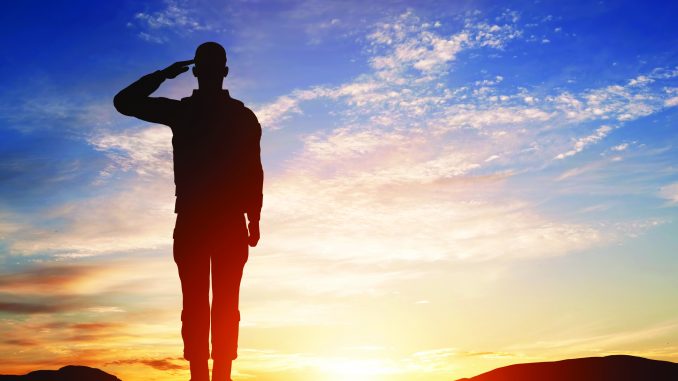 Exploring the expertise military personnel can offer your business 

by 
Almost every city in the United States is witnessing growth in construction—both in commercial and residential building, as well as roads, bridges and other structures. With the U.S. Bureau of Labor Statistics projecting the industry to increase from its current 6.9 million jobs to 7.2 million jobs by 2024—meeting the demand for quality talent is paramount for construction companies.
Companies looking to hire find that it goes beyond just filling the gap of supply and demand. The leadership, teams and specialized skills that an organization chooses to execute on projects will have a direct impact on its bottom line. To help ensure the right talent is in place, more construction companies find that adding veterans to their workforce is not just a good idea, but also good for business.
Benefits of Military Hiring
The military has thousands of enlisted individuals, officers and command staff that make for an ideal fit for the construction industry. In fact, many have experience on military construction teams helping to build or repair buildings, airfields, bridges and other structures. Veterans without direct military construction experience can also be exceptional candidates for construction positions in the civilian workforce. They already have the sought-after leadership qualities based on their ability to meet deadlines, supervise teams and work in extreme conditions.
Strong work ethic and dedication are just a few of the characteristics that veterans bring back to the civilian lifestyle. They are disciplined team players, organized and dependable, which are all talents that make it advantageous for construction companies to hire them for anything from leading and overseeing a project to being part of a team that helps design, build or repair construction jobs.
The Armed Forces see more than 200,000 U.S. service members return to civilian life each year. As of April 2017, the veteran unemployment rate continues to remain below the national average at 3.7 percent. This is in part due to government programs and initiatives that have focused on hiring veterans over the years, including Hiring our Heroes and Veterans Opportunity to Work (VOW).
Many businesses in the private sector are also taking a leading role hiring veterans. Related Companies, a company headquartered in New York City with extensive industry experience in development and construction, has created a veteran hiring initiative that focuses on employing men and women coming out of the Armed Forces.
In discussing the benefits of hiring veterans, Related Companies Senior Vice President Frank J. Monterisi, Jr. said that veterans "are very valuable to our company and the overall construction industry. The men and women who come out of serving our country have dedication, a strong work ethic and are exceptional problem solvers—which are great attributes to have when working on construction projects."
As a former Marine, Monterisi helps spearhead the veteran hiring program for Related. He said, "Construction projects are all about teams and working together. Veterans have great teamwork and can manage through demanding environments with efficient real-time, problem-solving skills. We are happy to bring them on, and will continue to keep this hiring initiative as a key priority for our organization."
While there are other programs similar to what Related Companies has in place, not all businesses understand how to optimize their veteran hiring programs to effectively hire this skilled workforce.
Building a Veteran Hiring Program
From insights into the background and experience of military talent to the development of veteran outreach campaigns, there are options for construction companies interested in creating or improving their veteran hiring programs. There is no perfect approach to hiring veterans, and traditional recruiting methods often fall short in reaching the right military talent.
Understanding the uniqueness of a veteran's job search situation and having programs in place to support him/her in the continuing transition into the civilian world go a long way in helping establish high-quality military candidate pipelines and filling positions faster. It is increasingly important for organizations to build a program, seek out advice and understand best practices within the industry. Key steps in helping build a program include:
Develop a plan with goals—Understand the backgrounds of the veterans that best fit with your open positions, how many candidates you are looking to hire and the ultimate, desired outcome. This can help define your program. Establish goals that align with your overall business strategy, and make sure you have buy-in from the top executives within the organization.
Skills translation—Frontline hiring managers often lack an understanding of a veteran's unique job search situation. To have a successful veteran hiring program, skills translation is critical. Unless veterans are applying for defense contracting and construction jobs, they must translate their military skills into civilian terms. Hiring managers do not always understand military terminology on resumes. If possible, assign someone from inside your company that has a military background as the leader or champion of the program to help hiring managers translate skill sets.
Best fit—The best fits come from the junior officer or more senior, noncommissioned officer ranks, who also have a sincere desire and interest in the construction fields. They may have picked up their interest while growing up or from their experiences in the military. When that interest is combined with real leadership experience in demanding environments, an employer can hire some truly outstanding talent.
Onboard and transition appropriately—Military personnel are accustomed to having a highly structured environment with chain of command and expectations of structure and protocol. If you can, reach out to veteran candidates before they make the transition into your business and start cultivating a healthy change to this new environment. This includes talking through expectations and the organizational structure. This, in turn, will result in a positive effect, higher retention rates and happier employees.
Culture component—The companies that have the best records for retaining veterans also share certain cultural similarities with the military. The most important of these are camaraderie and teamwork, characteristics ingrained in the military culture. Many veterans are more successful at organizations that can help encourage this type of culture. If you have veterans on your team already, consider building a mentorship program to help positively impact this culture and teamwork.
Development—Continuing education and training is a benefit that most veterans desire. In fact, advanced training is a key component for the military. This makes continued educational and training programs a critical factor in civilian work—particularly with mid-level and upper-level candidates. Many veterans are looking for an opportunity that will allow them to continue with their education while working. The most successful programs often are tied to "Leadership Development Programs (LDPs). LDPs can be very effective for retention and satisfaction amongst veterans.
Market your program correctly—Employment branding is not always an area of focus for construction businesses. However, when it comes to military veterans, there are numerous organizations competing for them, so it is important to position your construction company as an attractive employer of choice. Seek outside assistance with this if you need it, in order to effectively reach and connect with military personnel.
While it is nice to hire veterans out of a sense of duty, the case is strong that the right veteran can have a powerful impact on your business. If you can build a solid program based on the previous points, you are well on your way to strengthening your company.
Article from www.constructionbusinessowner.com