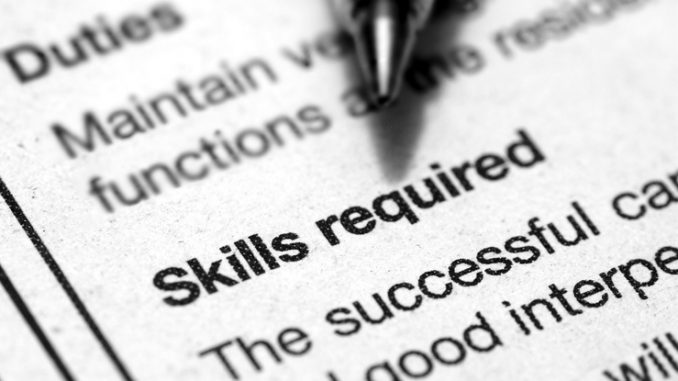 By Alaina Leary
The next time you come across a job posting, look carefully at the description. Do you see requirements such as "good manual dexterity," "ability to walk, sit, and stand for long periods of time," "ability to lift up to 20 pounds," or "own a vehicle," even for jobs that seemingly wouldn't require those skills? You might shrug off your sense of minor confusion and apply anyway. But now imagine you're a job seeker with a disability—and you keep seeing these requirements in every job you're interested in applying to.
A job posting for an administrative assistant at the Learning Center for the Deaf describes the role as being "responsible for the operation of department scheduling software" and "maintaining the flow of documents and other information into and out of the program." It then says candidates must be "physically able to perform" duties including"frequent lifting up to 25 pounds, bending, reaching above shoulder level, climbing stairs, pulling, typing, prolonged standing or sitting." The same posting also has an Equal Employment Opportunity statement that specifically mentions a commitment to hiring without regard to things like race, religion, sex, age … and disability. How might an employee who can't meet those physical requirements be accommodated? Those kinds of answers are left for the applicant to wonder.
There are no statistics on how many job descriptions would seem to disqualify disabled people as candidates just based on the language that's used in them, but it's clear that it's an awful lot. If you search for the keyword "25 pounds" on Indeed.com for jobs in Boston, there are 1,581 results. Some of those jobs, such as waitstaff, might require the ability to lift and move items, but other jobs that come up on the search—in marketing and communications, for example—probably don't.
Employers may be including these physical demands from a template. They also might not be thinking about what's considered an actual, essential function of the job, nor might they be thinking about which aspects of the job they'd be able to accommodate for an employee with a disability.
The Americans with Disabilities Act makes it illegal to discriminate against US job seekers with disabilities and requires that employers make reasonable accommodations, including modifying equipment, to help disabled employees perform essential job duties…
To read the entire article at quartz.com, click here.