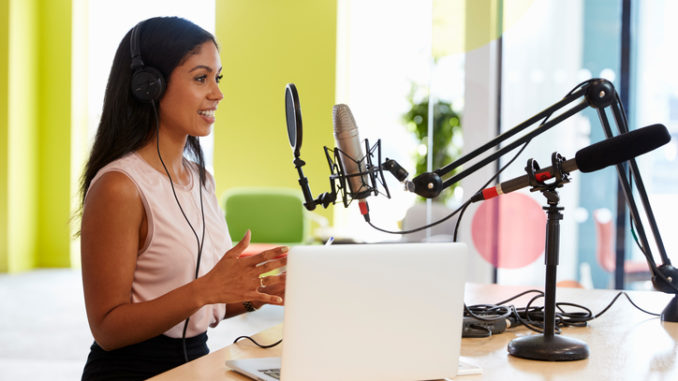 Not all that long ago, podcasts were a strictly niche pursuit, limited to those with access to high speed bandwidth and the time to spend listening to them.
The past few years, however, have witnessed a podcasting revolution. These days, podcasts can attract audiences in the millions and become pop culture phenomena in their own right (witness Serial). At the same time, podcasts cover a wider array of topics than ever before. Here are few covering women in the workplace:
Presented by British-born writer and public radio broadcaster Ashley Milne-Tyte, The Broad Experience describes itself as "a conversation about women, the workplace, and success".
According to Tyte, the show, which she started while studying at CUNY's Entrepreneurial Journalism Programme, takes a deep dive into why so many ambitious women never quite reach their full potential. As Milne-Tyte points out, "there are many reasons why. They've often been boiled down to one thing: babies. It's more complicated – and interesting – than that".
Women, Work and Worth is a podcast created by Mavenly + Co, a company that "provides workshops and resources for professional women to help them design a career + lifestyle with purpose." The podcast bills itself as being "for any woman wanting to navigate her life with intention and meaning." With nearly 100 episodes to date (correct at time of publishing), there's plenty for you to get your teeth stuck into.
While Woman's Work isn't the most regular podcast on this list (it claims to be monthly, but a trawl through the episode archive shows a few longer gaps), it does have a pretty cool premise. Hosted by Valentine Ubaldo and Grace Woodard, each episode features an interview with a lady who's doing cool, creative work, and music inspired by the guest.
Hosted by Alex Laughlin of the Washington Post, The Ladycast operates on a similar premise to Woman's Work. That means plenty of interviews with "interesting and inspiring women about their career journeys." Given Laughlin's journalistic background though, it shouldn't be too surprising that it also features episodes based on topical stories, including addressing the myth of the "lone male genius".
Hosted by Julie Hochheiser Ilkovich, this podcast is aimed specifically at women in the communications field.
Each episode sees Illkovich ask guests to share their advice and experiences on popular career topics, like mastering the job interview, personal finances and negotiations, time management, and more.
Nasty Girl founder Sophia Amoruso is something of a superstar in the world of female entrepreneurship. #Girlboss Radio sees her interview inspiring female leaders about what it takes to run a business, how to manage people, and ensure that you make time for other parts of your life. The idea is to "humanise the known, champion the unknown", and give people access to the best of female business leadership.
by Stuart Thomas
Article originally published at Engage Me  https://engageme.online/   Reprinted with permission.
Engage Me is the Middle East's premier employee engagement and communications consulting firm.
We are on a mission to build strong organisational cultures infused with community values and a sense of purpose.