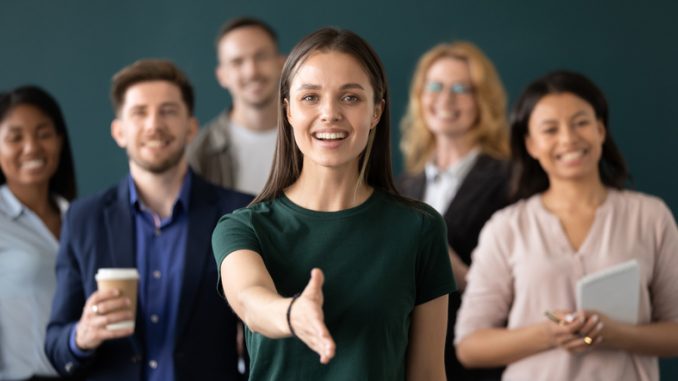 It's good for business, and it's the right thing to do.
by Brian Nordli
Andre Walker learned his most valuable management lesson 25 years ago. At the time, Walker was the head of customer service for the advertising publishing company Standard Rate and Data Service. It was his first managing role, and he had been proud of the team he put together. While he hired great employees, his mentor and the company's VP of HR posed a question that has stuck with him for the rest of his life.
She asked him to walk around the floor and describe the team that he put together. Walker surveyed the floor and responded that he saw people who were energetic, dedicated go-getters. "She said, 'Let's walk around again and describe the people,'" Walker recalled.
It was then that her point sunk in. He had hired two African-American men and two African-American women in their 20s. People just like him, who reminded him of the people he might see at a wedding or a school reunion.
"She said: 'Exactly. You need to make your workforce look like the world,'" Walker recalled.
While Walker's team's diversity problem differed from that of most sales teams — sales reps disproportionately tend to be white — he sees it as an important illustration of our tendency to hire people who look like ourselves.
Today, Walker is the director of sales enablement at the technology recruitment firm RK Management Consultants, where he leads a team of three that includes a white Texan in her 50s, a Latinx woman and a white Millennial man.
Walker's early experience helped him realize how easy it is for a sales team to end up looking just like its manager. It's for that reason that Walker has walked into countless meetings at other jobs where almost every person in the room is a white man in their 40s, 50s or 60s.
That's also the driving force behind the lack of diversity on tech sales teams today. Sales has had a history of being dominated by white, cis men. While more women are in sales than most other tech industry specializations, the field remains predominantly white: 79 percent of sales reps are white, according to the 2019 U.S. Bureau of Labor Statistics Report.
As we covered in a previous story on Built In, that lack of diversity can create challenges for people from underrepresented backgrounds in the profession. It can become a self-perpetuating cycle, where underrepresented minority groups often struggle to find managers and mentors who understand their experiences.
The good news is that more companies today recognize the need for diversity and have been outspoken about it. And there are plenty of specific steps sales leaders at all levels can take to create more diverse and inclusive teams.
TIPS FOR BUILDING A DIVERSE AND INCLUSIVE SALES TEAM
Conduct a diversity assessment your team and hiring process. This will help identify areas for improvement and next steps.
Build connections in the community. Taking the time to get to know people outside your usual network will help expand the pipeline of candidates.
Create a safe environment for employees to speak up. Microaggression training and employee resource groups can help create a more supportive environment.
Train sales reps in management before they lead teams. Success as a rep doesn't always translate into leadership.
Audit your evaluation process and standardize performance metrics. Clear standards help level the playing field for all employees.
CONDUCT A DIVERSITY ASSESSMENT
There are two common myths ModelExpand founder Paria Rajai hears about from managers across all teams when it comes to diversity and inclusion — the myths of the pipeline and of meritocracy.
The former claims that there just aren't enough candidates from diverse backgrounds, while the latter insists that diverse candidates aren't qualified for the roles. Neither theory holds water.
If a company is serious about improving its diversity and inclusion, Rajai said the first step is to do an internal diversity assessment and culture survey.
To read this article in its entirety at builtin.com, click here.