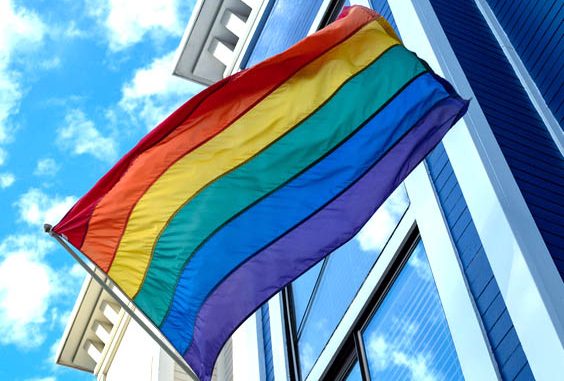 Although we're coming up on the 50th anniversary of the Stonewall Inn Riots, described by Encyclopedia Britannica as "a catalyst for a new generation of political activism" for LGBTQ rights – there is still a long way to go when it comes to discrimination legislation and public perception.
In this article:
LGBTQ housing rights – where things stand
Find an ally
Search for a neighborhood
Secure a home loan
Arm yourself with knowledge
Be a part of the conversation
Where Things Stand
According to NAGLREP (National Association of Gay & Lesbian Real Estate Professionals), "there remains a major problem in the real estate industry as housing discrimination based on sexual orientation and gender identity is still not illegal." This reality is detailed in the NAGLREP 2019-2020 annual report. The report reveals how and why LGBTQ home ownership rates are lower than the national average (49% of LGBTQ individuals own a home, compared to the 65% national average) – and how housing discrimination negatively impacts the community as a whole.
The NAGLREP report explains how the U.S. Supreme Court's decision to legalize same-sex marriage in 2015 has greatly influenced home ownership and home-buying habits. NAGLREP's annual report details this trend: "Life events, especially marriage, are traditional drivers of homeownership. The LGBT community has clearly benefited since same-sex marriage was legalized in the historic Obergefell v. Hodges Supreme Court decision on June 26, 2015. The ruling has impacted home buying habits. Freddie Mac's consumer study showed that 73% of all married LGBT couples own their own home, compared to 41% of non-married LGBT couples and only 35% of LGBT singles. NAGLREP members – 55% of those surveyed – believe more married LGBT couples are buying homes since the Supreme Court victory. The number has grown from 46% just two years ago."
Despite this trend, the LGBTQ community may still experience discrimination in the home search process. A staggering 64% of NAGLREP members cited fear of being welcomed in a new community as being a factor in the lower LGBTQ homeownership rates.
However, the NAGLREP reports the future may be bright. "The Equality Act was reintroduced in Congress on March 13. This bill would amend the Civil Rights Act of 1964 to prohibit discrimination on the basis of sexual orientation and gender identity in employment, public accommodations, public education, federal funding, credit, the jury system AND housing, the report states" So far, the National Association of Realtors, Realogy, Wells Fargo and Bank of America have publicly supported the bill.
Speaker of the U.S. House of Representatives, Nancy Pelosi, shared her support for the amendment in a release posted on her website:

"States across the country have already led the way to provide full civil rights protection to their LGBTQ citizens. Yet 50 percent of the national LGBTQ community still live in states that fail to provide clear legal protections to their LGBTQ citizens. While these states try to stand against the tide of progress, the Equality Act will guarantee a nationwide standard to ensure that no American is ever forced to lose their job or home or live in fear simply because of who they are or whom they love."
If you're a member of the LGBTQ community, we have some basic tips to keep in mind as you navigate buying a home or finding a rental property while being aware of the possibility of housing discrimination.
Your Guide to Fair Housing
FIND AN ALLY
The first step that Realtors recommend is to find an ally in the home buying or rental search process. An expert and advocate in LGBTQ rights can steer you in the right direction and help you discover the best neighborhoods, lenders and homes in your budget. An LGBTQ-friendly Realtor can be a partner to your ventures in homeownership or securing a rental property.
Real Estate Analyst Christopher Linsell at TheClose.com suggests:

"Seek out real estate agents who identify as allies to the LGBTQ community. If you are having trouble finding such a professional in your area, be up front and ask a real estate agent who you otherwise like and trust what his/her stances are on the protection of LGBTQ rights in the housing market. By bringing this issue front and center at the beginning of your real estate agent relationship, you establish the importance of advocacy on the part of your agent. They need to know that you expect them to fight for you."
Having an ally to do the communicating for you can be a huge advantage in avoiding the possibility of housing discrimination. Flavia Berys, law professor and Founder of LandlordPrep.com, explains how working face-to-face is less desirable:

"Landlords who are DIY, which is most of my students in my Landlord Prep seminars, are working with tenant applicants in a face-to-face way. That increases the risk of discrimination, especially if a landlord doesn't know it would be illegal to judge a tenant applicant based on discriminatory factors."
You can find an expert to be your advocate in real estate by getting referrals from others in the LGBTQ community, or do your own personal research among friends and family. Although they certainly don't need to be labeled as an LGBTQ-friendly Realtor as long as they're someone you trust to advocate on your behalf for equal treatment and equal opportunities. Set expectations from the beginning with your ally and understand their limitations.
SEARCH FOR A NEIGHBORHOOD
Get a feel for the right neighborhood by exploring the area firsthand. Some neighborhoods may label themselves as LGBTQ-friendly and others may simply promote the importance of equality in the community. You may find that some states have protections already in place against housing discrimination on the basis of gender identity or sexual orientation even as federal law does not.
David Reischer, an attorney & CEO of LegalAdvice.com says:

"Federal law lends no protection because the Fair Housing Act (Title VIII of the Civil Rights Act of 1968) prohibits discrimination for housing-related transactions based on race, color, national origin, religion, sex, family status or disability but it does not protect people against discrimination based on sexual orientation or gender identity."
However, "17 states and the District of Columbia prohibit housing discrimination based on sexual orientation and gender identity … Another four states prohibit housing discrimination based on sexual orientation only."
Explore these areas below to see where your state stands on LGBTQ housing discrimination.

Matthew Ryan, an attorney from Flushing Law Group describes how discrimination may be more prevalent in suburban leases where landlord permission is required:

"In my experience, the largest pattern of discriminatory behavior in real estate exists at the suburban level in which the property is not a multi-family dwelling with many apartments. The vast majority of complaints I have been referred involve residential landlords of 1-4 units dwellings who either discriminate against a leased tenant once they become aware of their sexual orientation or who either overtly or discreetly indicate a disinclination to rent to a party based on their legally protected status."
In your search for the right neighborhood, it pays to shop around and spend time discovering the areas and homes you could see yourself in long-term. After all, homeownership is typically at least a 15- to 30-year financial commitment by traditional financing means. Alternatively, lease terms for rental properties may last as long as a year or more at a time.
SECURE A HOME LOAN
For those buying, once you've found the best Realtor for the job and the best home in the neighborhood, it may be time to secure a home loan. Your pre-approval (possibly required before even looking at home) will help a lender establish your offer for a home. If you're buying a property with a partner, be mindful of the titling arrangements if you're not legally married.
CSA Real Estate in Charleston, South Carolina advises:

"If you want your rights to your property to go only to your partner immediately upon your death and outside of probate, you must take title to your property by Joint Tenancy with Right of Survivorship. Not individually and not just by joint tenancy. Taking title any other way will require probate upon your death and may result in the deceased partner's 'heirs at law' becoming owners of the property along with the surviving partner. The heirs may then sue for partition and force the surviving partner to sell or move out of the property."
With legal considerations in mind, you should also be aware of other ways you may experience discrimination when it comes to home services, purchase offers and rental applications.
David Reischer describes these other areas where discrimination can be experienced:

"Housing discrimination against lesbian, gay, bisexual, transgender and queer people takes a variety of forms. Sometimes a couple is erroneously told they cannot put both partners' names on a homeowner's insurance policy or the couple are told that they are not a couple and 'unrelated' and therefore cannot both be on the policy."
Your Realtor should be willing to support you and refer you to resources if necessary.
Yawar Charlie, an openly gay, Pakistani celebrity Realtor from the upcoming TV show "Listing Impossible" and commissioner of the city of West Hollywood draws from personal experience when it comes to advocating for clients as a Realtor:

"Once, I had a circumstance where a client of mine was being discriminated against because he was African-American and gay. Of course, the landlord was not overt in their discriminatory activity, but it was the eventual maneuvering to try to get him out of the property that crossed a legal line. I did my best to support him, encourage him, and refer him to the proper resources … When one is discriminated against you feel powerless, and I work hard to restore my client's power."
ARM YOURSELF WITH KNOWLEDGE
One way to protect yourself and the ones you love is to know your rights, to know what discrimination looks like, and know what to do when you experience it. CSA Real Estate's website mentions that while some real estate buying mottos are "location, location, location," the LGBTQ real estate search motto should really be "get a lawyer, get a lawyer, get a lawyer." The more informed you are and the more people you have in your corner, the easier it becomes to protect your rights.
Denise Supplee, Co-Founder at SparkRental.com and Realtor with Long & Foster Real Estate, describes her advice on handling housing discrimination:

"Discrimination of all types is a touchy subject. And the best line of defense is offense. Not to scream or yell or fight. But to be knowledgeable. Arm yourself with knowing and understanding your rights … Eventually, the laws will change, through lawsuits and legal contests. In the meantime, be prepared with information and the desire to fight."
BE A PART OF THE CONVERSATION
Don't be afraid to fight discrimination with knowledge (and your ally or attorney). If you experience discrimination of any kind during your home-buying or home rental process, you should consider reporting it.
Matthew Ryan tells us:


"Tenants have several ways to fight unlawful discrimination—including negotiating a settlement with a landlord or filing a complaint with a government fair housing agency."
New York City Tenant Attorney Samuel E. Goldberg from Goldberg, Scudieri & Lindenberg, P.C. advises:


"In New York, if a tenant is discriminated against for any reason including but not limited to LGBTQ, the tenant should file a complaint with the New York City Division of Human Rights. It is imperative that the tenant diligently and specifically sets forth and describes all of the facts constituting discrimination. The Tenant should provide the date, time, name of individuals involved, and all witness in the complaint. The Agency will then conduct a thorough investigation and if it finds probable cause that discrimination did occur, it will conduct an evidentiary hearing. If the Landlord is found to have discriminated, the Landlord will be fined and the tenant may be entitled to substantial damages as well as reimbursement of attorney fees."
Be sure to consult with your attorney to understand the specific steps to reporting discrimination where you live.
If you don't face any discriminatory behavior and you have an amazing experience – share your story. You can benefit the entire LGBTQ community by sharing your successful home-buying experience and offering hope for the future.
Note: An earlier version of this story misidentified Yawar Charlie as being from India. Charlie is actually from Pakistan.
This article is reprinted in full with permission. Originally published on Review.com