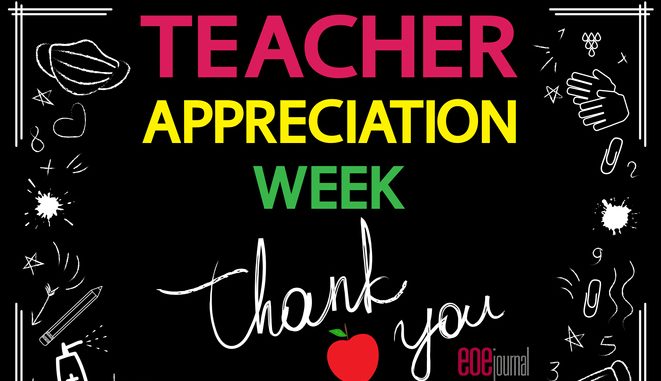 "To find out what one is fitted to do, and to secure
an opportunity to do it, is the key to happiness."
― John Dewey
It is especially important this years to say… Happy 2021 Teacher Appreciation Week!  The amazing work that teachers have been doing at meeting student needs has really been apparent during this past year. Keep in mind that educators have been doing this all along! As I extend my best wishes to all educators I wish to share with you one of my favorite annual  postings. I hope you find this reflection, one that you will continue to enjoy and share with others!   Also, please take a moment to subscribe to this blog by RSS or email and  join me on twitter at mjgormans . I have some great posts coming your way involving PBL, STEM, tech integration. Most of all, thanks for being one of those over 30,000 visitors a month and over 14,000 subscribers.  I would appreciate it if you pass this special post on to others through email , your blog, school newsletter, or a retweet!  Help me honor all of those amazing educators!
Sign up and retweet… – Mike Gorman (21centuryedtech)
Booking Info –  Look for contact information at the Booking Site. I have a distance learning workshop and session entitled "STEM is a Verb". In fact… the Workshop is also a Verb! i also have a new 1 hour workshop "Preparing for  PBL". It really promotes that 4C Classroom. Perhaps you wish to investigate PBL in the eLearning and Blended Classroom. These can also be builts into a 1/2 day or full day session and are very interactive! Schools have loved it! Talk with me about your winter,spring and summer… or even fall planning for 2021. You can also contact me at mjgormans@gmail.com. Happy holidays!
Teacher Appreciation Week 2021…It's True…  I Teach Because I Can't Do Anything Else! (21centuryedtech.wordpress.com)
OK, so it's true! I have spent  over 42 years in education because I cannot do anything else! Today, I travel around the country providing professional development involving all sorts of exciting educational possibilities. In those school districts I do my best to provide learning experiences for students and educators just as I have always done in the classroom. The idea of not being able to do anything else actually is something I have learned in the last ten years,  something I did not know  when I  presented my very first classroom lesson! I actually  began my undergraduate career in the College of Business with an eye on marketing. In the early stages of my teaching career, I became licensed to sell securities with the idea of becoming rich!  Little did I know that because I could only teach, I would find richness beyond monetary wealth! I dedicate this list of reasons to all of those great educators who teach because they cannot do anything else! Again, please retweet and share with all of our colleagues that really can't do anything else! I would really appreciate you taking the time to share!  Most of all enjoy the week and know that you are appreciated! – Mike Gorman
"To find out what one is fitted to do, and to secure an
opportunity to do it, is the key to happiness."
― John Dewey
The List
I can't be a banker or work in the financial business because while I might enjoy counting money and financial growth, I would rather count and measure the success of my students.
I can't be a doctor or dentist because  while I enjoy seeing people smile as they leave and are healed, I get even more satisfaction if I see a smile when they first sit down.
I can't be a professional athlete because while I do enjoy competition, I get even more satisfaction coaching young people to play each game with honor, integrity, and respect.
Continued…
To read this article in its entirety, click here.