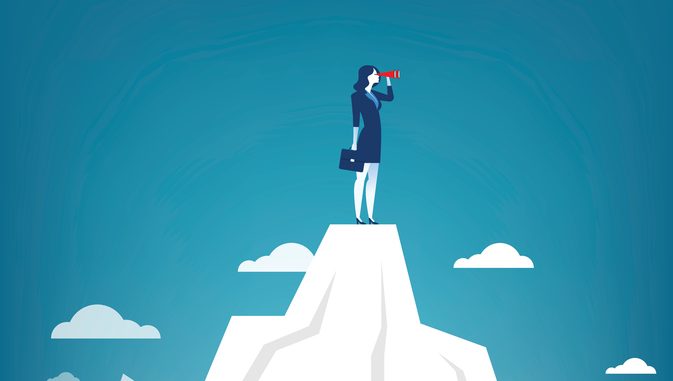 When you walk into the sun-soaked office of Deloitte CEO Cathy Engelbert, it's impossible to ignore the view. From the 33rd floor of 30 Rockefeller Plaza, the Empire State Building is so close it looks like a photograph, the window a frame. But Engelbert, 53, is not nearly as taken with the art-deco sight as she is with those she can share it with. "I just went on Snapchat, because my kids are big Snapchatters," she says, describing the shot of the landmark she sent them earlier in the day. The caption: "Long week, great Friday morning view."
And yet, it's a great Friday morning view that almost wasn't, at least not for Engelbert. During the first week of April 1997, Engelbert, then five months pregnant with her first child, Julia, resigned from Deloitte. "I just didn't have confidence," she says, recalling how she questioned her stamina. "Can I be a great professional at Deloitte? Can I raise children, be a good wife, mother and family member? Can I do all that?" The answer, she thought, was no.
A client offered her a position in his company's treasury group, a chance to work in the same office, on the same schedule, day after day. For the soon-to-be mother with dreams of a big family, the prospect of predictability was alluring. But that vision wasn't for her, and William G. Parrett and William Ehrhardt, then-senior partners in the New York region, knew it. "They took me out and said, 'You have all this potential. Why would you give that up?' It was an 'aha' moment for me," says Engelbert. "Men have to be part of the conversation in helping a woman envision she can do it. Those two became huge mentors and sponsors to me."
"All this potential. Why would you give this up?"
Since then, Engelbert has been paying it forward. In March 2015, she was elected the first female CEO of Deloitte and any Big Four professional services firm. And in October 2017, Engelbert became the first female board chair of Catalyst, a nonprofit focused on advancing women in the workplace. Both are achievements made even more noteworthy by the fact that women still hold just 6.4% of CEO positions and 20.2% of board seats at Fortune 500 companies. But before she made headlines in corporate America, Engelbert made waves in a different kind of arena.
To continue reading, click here!